Lesson Pricing Options
Single Lesson Rate
30-Minute Lesson (booked online): $32 each
Monthly Membership (most popular)
Weekly 30-Minute Private Lessons: $120/month
Weekly 60-Minute Private Lessons: $230/month
Contact the office to set up your monthly autodraft, and keep your day and time reserved every week!
Our school tuition is based on 48 lessons per year, divided into 12 equal monthly payments. The four weeks not included in tuition are:
Some months will have five lessons, some four, and some three, but the monthly tuition stays the same year-round, keeping accounting simple for everybody.
NO CONTRACTS REQUIRED! Enroll for only as many months as you like. We offer a 5% discount for families with multiple lessons. Our annual registration and supplies fee is $35 per student, or $45 per family.
---
To enroll and keep your weekly time reserved just for you, email the office or call 512-915-9800. A credit card on file is required for monthly invoicing.
---
Single Private Lessons
Not ready to commit to music lessons every week? You can book single lessons through our website at $32 per half hour for any instrument. This option's great for trying new teachers or instruments, since you can search for open spots in real-time and book instantly.
First time students: Book your first trial lesson through our website, then if you enroll later, we'll apply a $32 credit towards your first monthly bill!
Booking online is convenient, but remember there's no guarantee of availability when you return to book more! If it's important to keep the same day, time, and teacher every week, then monthly enrollment is the way to go.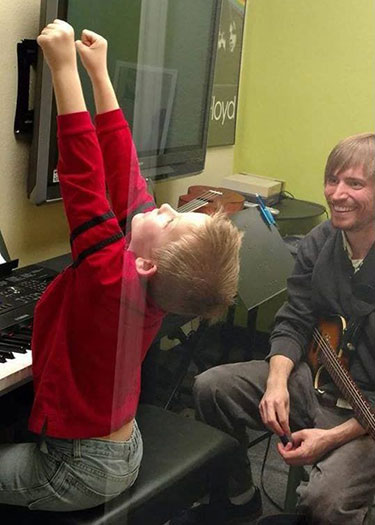 On a mobile device? Here's our mobile booking app.
New Students: Click the button below to read about our instructors, see availability in real-time, and book your first lesson.
Current Students: Click the button below to refresh your memory on your scheduled lesson times, or reschedule your lessons as needed (at least 24 hours in advance!)